luggage transportation from stage to stage
Backpacks tranfers
The Way of St. James or St. James' Way ( Spanish : El Camino de Santiago , Galician : O Camiño de Santiago , French : Chemins de Saint-Jacques-de-Compostelle , German : Jakobsweg , Basque : Done Jakue bidea ) is the pilgrimage route to the Cathedral of Santiago de Compostela in Galicia in northwestern Spain , where tradition has it that the remains of the apostle Saint James are buried.
Transport of luggages and backpacks from stage to stage in 'Camino de Santiago'.
From Irun to Ribadeo in Northern Way.
CAMINO NORTE (Northern Way)
Ask and Reservations :
From Irun to Bilbao, Send email to :

TRANS VIZCAYA :
Mikel Karabias

WhatsApp
transvizcaya@gmail.com
this is how we do it :
---
For services to the pilgrims at 'Camino Frances' view this sites

Toni - Transporte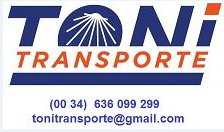 ---
Luggage & People Transport on the Camino
http://amawalker.blogspot.com
---
General Information
Trans Vizcaya is a Transportation Company Baggage as Backpacks, Bags, and personal items.

This service is primarily offered to pilgrims from Easter until late October.

This period may be extended in special cases.

Transport is in the following steps of the 'Camino de Santiago':
Nothern Way, on the coast.
Between Irun and Bilbao
---
---
Request Service
In hotels, guest houses, etc. ... in the 'Camino de Santiago',
you can ask about this type of transportation.

If there is agreement with the hotel, you can call us for transportation,
by e-mail.

Before calling our service, you must book the place where you go to sleep.
It is necessary to ensure safe transport.


---
---
Where and when you pay
Most hotels are familiar with the procedure for payment of your luggage.

It's simple to add to your luggage a mailing envelope with the following information:

Your name or surname: name _ _ _
Pick-up Point: Pick-up _ _ _
Delivery Point: Delivery _ _ _


This mailing envelope is available to recepcion the hotel (or you write these data on any envelope).
The envelope must include the amount of money for the service contracted for that day.
---
---
Rates
They change according to date and quantity of luggage
backpack max. 12 kg, and suitcase max. 18 kg

This price corresponds to a section or Step made in one day walking from your starting point to your end of the stage.

otros ... links ... al camino


www.jacobeo.net
Foro - jacobeo.net
Foro - mundicamino.com







AMAWALKER Blog

Pilgrimage - St James Way

Camino de Santiago Forum

The pilgrimage routes in pictures

The road to Santiago/

Luggage Courier Services


History the camino
Historia Camino de Santiago

Los Caminos Jacobeos

La Ruta por Roncesvalles


Forum... Pilgrims... you
Camino de Santiago

Forum on Facebook

P U B